Blogging By Mail; or Goodies Go Global
.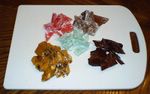 For
Blogging By Mail
, hosted by Nic of
bakingsheet
, I pulled Cheryl of
She Bakes and She Cooks
.
I was very excited to be a part of this (I love getting, and sending, stuff in the mail!), but I bit worried, as well. Cheryl lives in Singapore...what on earth could I send her!
All my planned goodies were scratched. There was no way cookies, chocolate, and other baked goods would survive the 2-6 week journey.
So, the first two weeks after I was assigned my 'giftee', I tried to think of things to send. Failed to have the proverbial brainstorm.
Finally, it occurred to me: I'll make candy.
And that's what I did. In addition to some tried-and-true American store-bought candies (Necco wafers, Nerds, Big League Bubble Gum, and so on), I made four flavors of hard tack: cinnamon, mint, anise, and (missing from the photo) root beer. I also made a multi-nut brittle, and molasses sponge candy.
I'd rather have sent along my famous chocolate chip cookies, some shortbreads and miniature lemon poppyseed cakes, but hardtack has a better chance of making it to Cheryl's house in it's original condition. The cookies and poundcakes? Well, they'd have been useful to her as paperweights, I suppose.
I had fun making the candy, something I've only recently gotten into. I did end up with a few battlescars (molten sugar, at 260 degrees Fahrenheit should not make contact with skin...), but I'm pleased with the results.
Here's my goodies from Jessica of
CaterpillarBaby
. All goodies from North Carolina!
I love the peach buds (I'm a sucker for peach-flavored things). Matt really likes the Moravian spice cookies (I keep thinking I want to make a batch and use the crushed cookies for a cheesecake or tart base). Alex and I have been enjoying the sun-dried tomato basil pesto straws...yum.
This has been a lot of fun, and I hope we all do it again!