Blog Party#35: Chocolate
.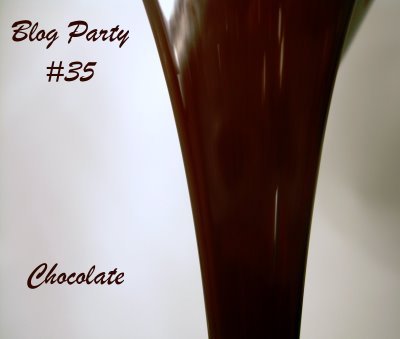 Happy June, everyone!
It's a new month, and that means a new Blog Party theme. Last month's
Buffy Bash
was absolutely fabulous, but it was a theme some BP'ers weren't entirely familiar, or even comfortable, with. So for our
Thirty-Fifth
party, I've decided to go easy on you.
For this month's party, your favorite virtual cocktail party is all about
CHOCOLATE
!
Oh, yeah.
Bite-sized nibbles, flavored with chocolate. Your drinks? Sure, if you want to! So long as there's an appetizer & a 'cocktail', and the use of chocolate, we're all good.
But your options are truly limitless: milk, semi, dark, and white. Solids, sauces, powders, nibs. Sweet or savory! It's entirely up to you.

New to Blog Party? Or have you rather miserably been away from us for a while? Then visit the
official
Blog Party page
for all the wheres and whys.
To RSVP to June's Chocolate Party, get your entries to me no later than Thursday, 19 June. Links left here in the comments or mailed directly to me at
thehappysorceress at gmail dot com
are equally acceptable. We party that Saturday, 21 June.
So, start playing with chocolate, and I hope to see you there!!
Tagged with:
Food and Drink
+
Blog Party
+
Events
+
Appetizers
+
Cocktails
+
Canapes
+
Parties
+
Finger Food
+
Mocktails
+
Chocolate
+
Blogging