EoMEoTE#15: The Hard-Boiled Round-Up
.
Two weeks had passed since Ryeth Buttery's murder, and Nick Henslay was still searching for his killer. The cops weren't having much luck, either; making Nick's job that much harder. Nothing like a frustrated homicide sergeant riding his his tail feathers to slow a job down.

His big break came one rainy morning, when into his office walked Honey Bunn. She had a figure like an hourglass, and legs that didn't quit.

Honey practically poured herself into the chair opposite Nick. Looking at the detective with eyes like pools of molasses, she asked if it was true, the rumors she'd heard.

"Are you investigating Ben Adique for Mr. Buttery's murder?"

Normally, Henslay didn't share information with 'civilians'. He was about to explain this to Honey, but she cut him off.

"You do know who I am, don't you?", she asked.

"Of course, Ms. Bunn. You're Ben Adique's girlfriend, as well as the Scotch Bonnet Cafe's most popular entertainer. I've caught your show a few times; you have a lovely voice."

Nick expected Honey to blush, or thank him. But the next words from her mouth surprised him.

"I think Ben is cheating on me. And I want you to catch him", she told him.

Nick was surprised, but tried not to show it.

"Ms. Bunn, normally I'd be happy to take your case. But I'm a bit tied up with this Buttery murder just now", he told the leggy singer.

"But Mr. Henslay; Ben's having an affair with Rosemarie F'Ocaccia, Ryeth Buttery's secretary!" Honey exclaimed. "Surely, that ties in with your murder investigation?"

Nick let out a whistle. He hadn't heard anything about Adique fooling around with F'Ocaccia, but if it was true? He might just be able to solve this case after all.

Rosemarie F'Ocaccia was the niece of Herb F'Ocaccia, a known member of the Ciabbata syndicate, a notorious crime family in the Baking district.

If Rosemarie was mixed up with Ben Adique, and Buttery got wise, it stood to reason that either she or a member of the Ciabbata's would have done whatever it took to silence the NTC man.

Nick promised Honey Bunn that he'd look into Ben Adique's fidelity, and made arrangements to meet with her soon.
Days went by, and we next find our hero sitting at a table at
Spotted
, a popular hang out for private dicks.
Every month, Nick Henslay met up with his fellow crime-solvers to discuss cases, as well as enjoy a good meal.
Around the table, one after another, the detectives told their tales. First, R.I. Red lamented the frame-up he'd suffered at the hands of mrs. d.; even the
Eggs in Plastic
didn't make him feel any better.
Troy Yolk took his turn next; he explained how he didn't need a Jeanne-ie in a bottle to figure out
his coddled client had merely been tossed over for a real English muffin
. Oh, well, he told the P.I.'s; this blue cheese sauce, bacon and arugula almost makes up for it.
Ramya popped in just long enough to ask the guys if they could figure out what happens to a mother's free time...apparently, some mom's are having difficulty finding time to join cooking events! As a way of saying thanks, she left behind a dish of
Flavorful Scrambled Egg Whites
.
Mr. Benedict suffered some injustices at the hands of Mrs. Florentine, who left disappointed. Nursing his injuries, Benedict ordered a plate of Lyn's
Timballe of Grits and Cheese, with Poached Egg Centre
Mr. Brioche told his tale next, of eggs that were late, and tattoed ladies. If not for Andrew's
Eggie Chocolate Brioche Rolls with Blueberries, Raspberries and Crème Fraîche
, he wouldn't have dragged himself out of bed.
Shelldon came running in, panting and asking for a tall glass of something cool. "Sorry I'm late, fellows; but I've been dealing with a seriously hot dame. Oh, waiter? Bring me a that Elizabethan special; a
Green Chili Omelette
, will ya?"
Nick Henslay pushed back from the table, and leaned back in his chair.
"Well, boys; it turns out that Ben Adique was fooling around on Honey Bunn with Rosemarie F'Ocaccia, all right. But there was more to it than I originally thought.

Erskine, Grundy, Green and Schultz had paid the Ciabbata gang a lot of dough to get the secrets of Ryeth Buttery's operations. They used Rosemarie to lure Adique and turn him against his employer. When Buttery learned Ben Adique was not only cheating on his gal, Honey, but with his secretary, he became suspicious. Rosemarie panicked after Buttery began looking through her desk, and told her uncle, Herb F'Ocaccia. Herb sent a couple of goons to Buttery's home, and, well...you know the rest. Ben Adique, Rosemarie and Herb F'Ocaccia, and two of his men have been arrested, and are awaiting trial. As for the guys at E.G.G.S., the whole company is being investigated.

And as soon as I finish these Scrambled Eggs on Toasted Focaccia, I'm off for a nice vacation...with the lovely Honey Bunn by my side.

See you next month, fellows.
Well, there you have it!
A big thank you to
Cooksister!
for allowing me to host another edition of the lovely EoMEoTE!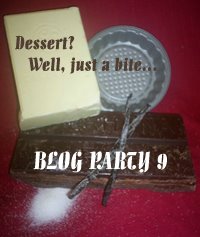 Blog Party#9
is this weekend! This month , we're turning our favorite desserts into bite-sized treats! Create sweet appetizers and drinks (non-alcoholic would be just fine), and get your entries to me
TODAY
. Thursday, 20 April. You can leave a link here in the comments, or send an email to
thehappysorceress at gmail dot com
; and I hope to see you there!
Tagged with:
Food and Drink
+
EoMEoTE
+
Eggs
+
Toast
+
Noir
+
Fiction
+
Events