I Want My Dinner Now!; or a taste-test through a cookbook
.
First, I apologize for my disappearing act. We've been, as Alex puts it, a 'broken-down family' for the past two weeks. And let's face it, when you're sick? You just don't find yourself in the mood for food.



A couple of events to keep in mind: EoMEoTE#15 is going on now, with a Noir twist; and Blog Party#9 is just around the corner, with sweet treats filling our appetizer plates this month. I'd love to see you at either, preferably both, events.
And now on the textured-vegetable-protein part of this post.
Some weeks ago, I found an email in my food blog account. I have an 'everyday' email account, which I use for my correspondence and on-line ordering; but I set up an address for Dispensing Happiness business, as well. I never know what I'll find when I sign in; a request for a recipe, on-line event entries, and occasionally? Out-of-the-blue requests.
This email was on the 'out-of-the-blue' variety. It was from a woman who'd written a cookbook, and would I be interested in receiving a copy, and giving her a review?
Well, what do
you
think?
The book is titled
"I Want My Dinner Now! - Simple Meals for Busy Cooks
. The author, Renee Pottle, described it to me like this:
"It holds 85
easy-to-make recipes, using convenient, but not processed, ingredients.
The recipes are those that appeal to "real" people and include an
assortment of updated comfort foods, restaurant favorites, and
kid-friendly meals"
.
Renee was true to her word. This is a no-frills cookbook, but don't take that as a bad thing.
I Want My Dinner Now!
is packed full of super-simple recipes, cook's tips, a guide to cooking terms and ingredients, basic staple recipes (how to boil eggs, make breadcrumbs, cream sauce or your own taco seasoning,and so on), a list of pantry essentials (a feature I like to find in a cookbook), and recipes divided into categories; Fast and Simple, made with things on hand and ready in about half an hour, Toss it in the Oven, easy meals that can be put together and baked off while you get on with life, One Pot Meals, soups, stews, salads and more, and Let's Use Those Appliances, using the slow-cooker, microwave, rice cooker, electric grill and more.
Renee offers a range of dishes, from meatloaf like your Mom made to various ethnic-inspired meals.
I have to say that, as much as I liked the book, it wasn't exactly our style.
What I mean is, I'm married to a food snob. Quick, simple, 'down-home-y' foods are not Matt's style (trust me, I tried).
That said, I browsed through the recipes, and found three I thought he'd like.
Taco Salad
First was a super-easy Taco Salad, which we both liked. The only change I would make would be to keep the taco chips whole; making it easier to scoop.
Laurie's Thai Chicken
Laurie's Thai Chicken was a real hit with Matt. Made in the crockpot, and using the most basic ingredients; I just tossed everything together and let it cook till he was ready to eat. And he liked it!
Oven Barbecued Chicken
This was our last try, and one we kept putting off due the aforementioned illness. But when we finally got around to it, it proved to be another easy dish to prepare.
Again, using ingredients you're likely to have in the kitchen, this came together so quickly.
We had a small problem, but it was on our end, and not because of the recipe. It was simply a matter of using too large a pan, and the run-off sauce burnt. But Matt actually said he'd like to make this again!
But...we liked what we tried, and the recipes truly were fast and easy. If you're looking for quick dishes to feed your family (or yourself) without a lot of fuss, this book is for you.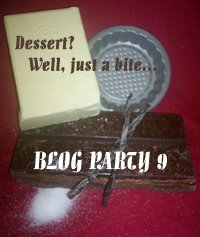 Blog Party#9 has been announced
, and for the month of April, we're turning our favorite desserts into bite-sized treats! Create sweet appetizers and drinks (non-alcoholic would be just fine), and get your entries to me
no later than
20 April. You can leave a link here in the comments, or send an email to
thehappysorceress at gmail dot com
; and I hope to see you there!
Tagged with:
Food and Drink
+
Cookbooks
+
Recipes
+
Dinner
+
Family
+
Chicken