Taters and Eggs and Cheese...oh my!
.
Because plain ol' eggs and toast is so
yesterday
.
Frittata with Potatoes and Prosciutto
, a recipe swiped from Giada.
Potatoes, onions and garlic sauteed till soft. Over this, pour a mixture of eggs, cream, cheese (calls for Parmesan, and as always, we have Asiago), prosciutto (or Morningstar Farms for me), and basil. Cook till bottom is set, but top is still 'wobbly'. Broil in the oven for just a few minutes, until the top is set and browned.
Just a little tip here: if you're going to use a timer to keep track of how long you're cooking something? It really helps to start the timer...
.
Really good stuff. Served with sliced baguette, it's a pretty tasty dish.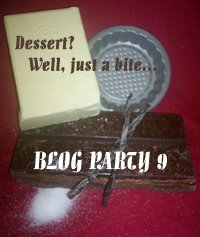 Blog Party#9 has been announced
, and for the month of April, we're turning our favorite desserts into bite-sized treats! Create sweet appetizers and drinks (non-alcholic would be just fine), and get your entries to me
no later than
20 April. You can leave a link here in the comments, or send an email to
thehappysorceress at gmail dot com
; and I hope to see you there!
Tagged with:
Food and Drink
+
Eggs
+
Potato
+
Cheese
+
prosciutto
+
Basil
+
Baguette
+
Dinner