Dogs and Curry: But Not in the Same Dish!
.
A few weeks ago, we made (and by 'we', I mean Matt...lucky me) this wonderful
La Hore Chicken & Potato Curry
.
This may be the closest we've come to a restaurant-like dish at home. Creamy, flavorful...everything we love about our favorite Indian restaurant.
The recipe came from
Indian Home Cooking
, which was exactly the sort of book we were looking for.
Not difficult to make, with excellent results.
This book is going to become dog-eared.
Speaking of, I missed WDB yesterday (busy from start to finish), so here's a couple pictures of Duke & Fluffy. Donegal even manages to sneak in there.
Sweet puppies.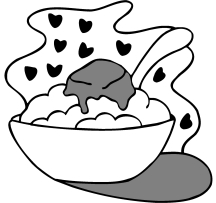 Blog Party#19 is under way, and this month, we're taking
Comfort
in our favorite feel-good foods. Turn your favorite comforting treats to appetizers by Thursday, 15 February (
thehappysorceress at gmail dot com
), and hope to see you there!
Tagged with:
Food and Drink
+
Curry
+
Potatoes
+
Chicken
+
Cookbooks
+
Indian