Blog Party#22: Wild Wild West: The Round-up
.
Hello, and welcome to a
very
late Blog Party#22: Wild Wild West round-up.
Thank you for your patience, as I continue to recover from my very own malady.
And now, on to the party!
Be sure to wipe your feet on this fantastic
Cowboy Throw Rug
as you come in...it's dusty out there on the trails, you know.
These
Cowgirl Coasters
will come in handy, too.
Especially if we serve up some
Cowboytini's
!
I had a lot of fun gathering the music for our party. There are times when getting a song stuck in your head is a
good
thing, like the main theme to
The Magnificent Seven
!
There's the appropriately-titled
The Wild West: The Essential Western Film Music Collection
As well as the original soundtrack to
How the West Was Won
. Fitting, I think.
And now, on to the grub! I mean, er...food.
First we have
J
, who, despite her claims of deficiency, came up with a marvelous and hearty
Trio of Beef
. Using this ever-handy Wild West ingredient, J prepared some tasty Meatballs, blow-the-top-of-your-head-off Skewers, and a rib-sticking Stew.
I admit that coming up with a Western-style beverage was a bit tricky, so a nice cold Coca-Cola not only hits the spot, but also fits the bill. Thanks so much for coming!
As for June? Sorry, J...this next party may be the spaciest one yet!
Next we have
Elle
, and she's reminiscing about her days roughing it in the great outdoors: her Girl Scout years! Good to see you, Elle.
You're going to
love
her tangy
Chuckwagon Meatballs
, and someone save one of those
Cowboy Cookies
for me!
Then she rounds it out with a nice
Pale Ale
.
Excellent Wild West fare, Elle...so happy you could come!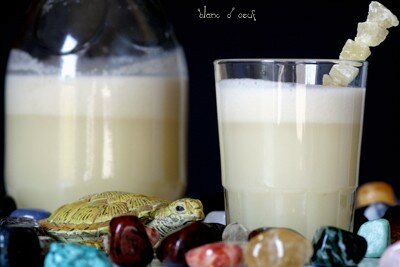 Stanislas
returns! And while fighting spring allergies, a trip to the Wild West sounded like a good diversion. So, he's here with slices of
Cake with Carambars
...yum! And you won't go thirsty after trying his fruity
Copacabanas
.
So good to see have you back, Stanislas...I promise you'll get plenty of sunshine while you're here!
Sarina
is back!! (Stephanie does happy dance...happy
square
dance, that is...and believe me, after four years...and one semester gym...I do know how!)
One of the reasons I looked forward to this event, in particular, was to see how different people of different cultures, in different countries, interpreted something so very American as Wild West. Our favorite TriniGourmet did a pretty good job, with the Tex-Mex inspired
Jalapeno Bites
. And I commend her for her dedication to the theme, even if the results were less-than pleasant. But, disaster aside, her icy cold
Smaltas
should save the day!
So happy to have you back, Sarina...hope your access improves.
Yee-Haw! We get an actual Texas-based guest at our Wild West party tonight! Welcome back,
Jessica
!
She's brought these authentic, and very tasty,
Cornbread Cups Filled with Homemade Chili
. Yum! Cowboy fare, indeed.
And as someone 'in the know', Jessica's serving up bottles of
Shiner Bock
, Texas-brewed and favorite of cowboys.
So good to have you back, Jessica!
Tigerfish
rounds out our guest list tonight, and I love that she's managed to cross cultures with her appetizer. Taking a very American...and specifically Western...barbecued meat, and using it in a very Chinese dish, giving us
Barbecued Pork Pastries
. Fabulous!
To cool off, she's serving up
Mango Slushies
. Delicious.
Always good to have you here!
I made a couple of bite-sized treats, too...
First, there's the
High Ponderosa Wings & Drums
; chicken wings and drumsticks baked, then coated with a sweet, tangy-but-not-spicy, with a touch of smokiness, barbecue sauce. Really good stuff.
Tejas-rubbed Steak Bites.
Various spices coating a chunk of steak, which is then seared in a hot pan. Spicy.
And there's plenty of this
Sasparilla
to go 'round, so please, help yourself!
Well, there we go. Late, but still wonderful. Thanks to everyone who tackled this tough theme.
And hold on to your helmets...June's theme is going to be out-of-this-world!
Tagged with:
Food and Drink
+
Blog Party
+
Events
+
Appetizers
+
Cocktails
+
Wild West
+
Parties
+
Finger Food
+
Mocktails
+
Blogging
tml