Blogging by Mail: Send Me An Angel
.
Hey, BBM'ers. I've done everything I can to track down our last missing packages, but it looks like we have 8 or 9 boxes that never reached their destinations.
I hate the thought of some of you missing out on the fun, so I'm turning to my 'BBM Angels' for help.
Over the past few rounds, a few of you have stepped forward (virtually, of course!) with the offer of sending out a make-up box to those without. It's a small, and wonderful, group, and I adore them.
But this round...
with 85 participants
...has lead to a bigger number of 'withouts'. Bigger than my body of Angels, I'm afraid!
So I'm asking: if you feel you could put together a box for some poor soul who's been waiting three months for their package, if it would not be a financial strain, please let me know at
thehappysorceress at gmail dot com
. Some lonely blogger thanks you, your fellow BBM'ers thank you, and I thank you.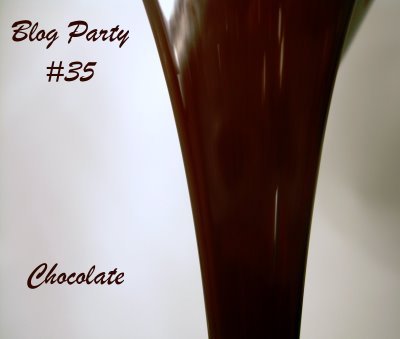 You're invited to another Blog Party...and for June, we don't care if it
does
melt in our hands, because we're having a
Chocolate party
!
To RSVP, get those chocolate appetizers
and
beverages (note the 'and': a drink of some kind, alcoholic or not, is required) to me no later than
Thursday, 19 June
...hope to see you there!