The Edible Word: Comfort Food
.
Spend longer than 30 minutes with me, and you'll easily learn that I am a book addict. Yes, I said 'addict'. You look at me like that's a bad thing...
Books, and my small town public library, helped me survive my childhood and adolescence. I married a man with a passion for books that may even rival mine. Our home overflows with books. There is no room, not a single room, without books. Ours is a home where books come to live. We built floor-to-ceiling shelves in our bedroom to accommodate our ever-increasing need for
more
books.
We sum it up by saying 'all we need is words in a row...'. We love to read, we love books.
I'll read just about anything. I spent my early years exploring the stacks of the library; I read bios, history, mysteries, plays...whatever I could find.
The reason for this prelude is this: my love for books, for the written word, is so deep that I find it difficult to
not
like something.
If you check out my GoodReads list, you'll see very few titles rated lower than three stars. It's just that I get so much pleasure out of reading, from jumping into that other world, it's hard for me to find fault with it.
Rarely have I disliked a book, and only on two or three occasions have I
HATED
one so severely that I threw it across the room in disgust and/or anger. One book so traumatized me that I've blocked the title from my memory!
For me, it's a book. It's a good thing. I almost automatically like it.
So when my dear friend
Cath
, my soul-sister I didn't know I had until just a few years ago, sent me an email about starting a little food-ish book club, I may have let out a 'whoopee'. It's possible. I guess you'll never really know.
The Edible Word
is a 'club'; a small group of gals read a chosen book...it may or may not have a direct link to food and cooking...then, drawing on the story for inspiration, make a dish and write up a review.
For our first book, we selected
Comfort Food
, by Kate Jacobs.
It's a 'cute' book. While my interests are varied, I will admit I am not a fan of chick lit. Chicklit. Chicklets. The gum I like; the genre, not so much.
Set in a world with a rival for the Food Network, it's about a rather (to borrow Cath's description)
precious
almost-fifty year old self-made TV cooking host.
She's slim, with 'butterscotch' hair (we get that drilled into our brains), a widow, has two adult daughters & their lives to steer, a career crisis, a hot ethnic 'rival', and more. Gus, our protagonist, is a busy gal.
She cooks, she bakes. She meddles. She's
adorable
.
I finally got around to reading my copy one night while soaking in the tub. I read it straight through, which is both good & bad. It's good, because I enjoyed it enough to not put it down.
Bad, because the water slowly drained out, turned cold, wrinkled my feet and left me with a sore behind.
Immediately after reading, I thought it a wonderful book. It's an incredibly easy read, the characters show some growth (which is always nice), the food talk drew me in.
A few days later I sort of re-thought my original rating; yes, it was 'good', but the 'chick lit-ness' of it started to get to me.
The other group members completely saw Gus as a Martha Stewart clone, and I get that. But funny, while I was reading, she was totally a thinner cross between Ina Garten & Paula Deen!
The dishes 'made' in the book (it doesn't contain recipes, but it would be an excellent marketing device) were all over the place. Elegant foods, simple foods. But I fixated somewhat on the character Priya Patel, Gus's biggest fan & winner of a 'meet Gus' contest.
And when, later in the book, she invites another character to her home for dinner (a thank you for diagnosing a health problem, one I understand all too well), she prepares a
thali
.
A
thali
is a very good way to ease into Indian cuisine; it's a platter laden with small portions of often safe dishes, as well rice and some sort of bread and condiments.
It's how I became a convert; these days Indian is on my top three desert island foods list. So it seemed the perfect choice for my book-inspired dish.
I even went ahead and ordered
thali
plate sets, but I must have found a bum of a company because three weeks later...no plates. No answering emails or phone calls, either.
I stuck with some basic combinations: a daal, using red lentils, a spicy paneer & pea in a light tomato sauce, and dum aloo, tiny potatoes in a slightly sweet & spicy sauce.
All fairly simple to make, all requiring lots of spices (probably my favorite part!), served with rice and store-bought naan.
I think one of the reasons a
thali
worked for me is because I can easily fit Indian dishes in the 'comfort food' niche. It's hearty and filling. It makes you feel good. And it's very much the kind of food you can pull out of the fridge and heat up in the microwave when you're having a craving.
I used to think mashed potatoes were the ultimate comfort food, but give me a bowl with daal bukhara over rice? Happiness.
I think the book club also highlights what makes books so wonderful, too. Each reader takes something different from a book. Everyone interprets it their own way.
Which is why I wasn't at all surprised to see that our members managed to (almost) choose different dishes to make!
See for yourself:
PheMom
took her inspiration from one of the more touching scenes in the book, and created a
Chocolate Oatmeal Birthday Cake
!
Karen
was drawn to the same bit I was but still managed to create her own version of a daal;
Broccoli Dal Curry with Coconut Milk
.
Tartelette
summed up the spirit of this group while making her
Strawberry Lemon Thyme Shortcakes
.
A bit like Gus,
Judith
went outside her comfort zone and made a
Spanish Tortilla
.
Melody
put her own twist on a breakfast favorite with
Orange-Apricot Scones with Orange Glaze
SilverMoonDragon drew some unexpected parallels between herself and Gus...and managed to finish her book before her baby was born, Congrats!, showing some love for her DP with
Scrambled Eggs, Grilled Cheese & Mushrooms
.
Cath will join us as soon as her technical problems are solved...but I hear cake is involved.
A big thanks to all
The Edible Word
members; your dishes rock, and you are rock stars. In a bookish way.
I really did enjoy Comfort Food. But I've enjoyed sharing it with my TEW pals even more!
I wonder which book we'll tackle next??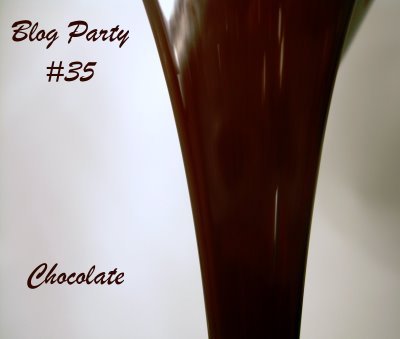 You're invited to another Blog Party...and for June, we don't care if it
does
melt in our hands, because we're having a
Chocolate party
!
To RSVP, get those chocolate appetizers
and
beverages (note the 'and': a drink of some kind, alcoholic or not, is required) to me no later than
THIS Thursday, 19 June
...hope to see you there!
Tagged with:
Food and Drink
+
Vegetarian
+
The Edible Word
+
Comfort Food
+
Indian
+
Thali
+
Book Clubs