Dividing Time
.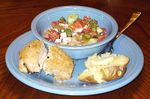 Well, it appears the cable here at the house is faulty, so posting pictures will be an issue until we replace it.
Thank you Matt, for getting things to work, at work!
The picture above will be found both here and at the
cooking club blog
, as I'm sharing my cookbook testing recipes there. But, I also included a
Horiatiki Salata
with the meal, which belongs here. It's really not as confusing as it sounds...
The salad (basically, a Greek salad) came from the Complete Mediterranean The Beautiful Cookbook, and we're slowly
working through it
.
We were going to have it the night before...it was prepped and waiting...but found we weren't in the mood for it.
And as
Oven Fried Mustard Chicken
and baked potatoes did not make a balanced meal, we both felt it'd make a good addition.
Tomatoes, in wedges, chopped cucumber, green peppers, red onion (paper thin slices), olives and Feta. Dressing of red wine vinegar, olive oil, oregano, garlic and salt and pepper. Mix dressing ingredients, drizzle over veggies, and allow to sit for an hour.
It was nice...as Matt pointed out, you barely noticed the onion. Good flavor all around, and the vegetables didn't get soggy, even after 24 hours.