Blog Party#19: Take Comfort, the Round-Up
.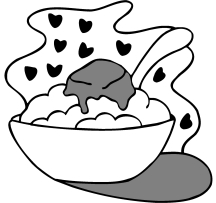 Welcome to the
Nineteenth
Blog Party! This goofy little event just keeps on chugging, doesn't it?
We have an amazing turn-out this evening, and I'm so happy you all could
be here. Clearly, I'm not the only one who takes solace in a bowl of
somethingcarb -heavy...there are some truly amazing, and inspired,
entries here. I, for one, can't wait to dig in; but of course, we have
to set the mood first, right?
This is a tough one, as far as the music goes. What's comforting to one can come off as annoying as heck to another.
But I have to say that, personally, the 1975 eponymous
Fleetwood Mac
album is a source of great comfort and happy memories for me.
Unlike '77's heartbreak-fest 'Rumours', Fleetwood Mac Fleetwood Mac has a warm, welcoming feel to it. Ok, there's some subtle (and not-so subtle) signs of things to come ("Blue
Letter" & "Landslide" aren't exactly depictions of a happy relationship), but the music itself wraps around you, and for me, it's a like a blanket.
For something a bit more broad, a collection of
Glenn Miller's greatest hits
is sure to work.
And what's happier and welcoming than the voice of
Doris Day
?
And since we're just sitting around on couches and comfy chairs, we don't really need a table setting.
But I've lit lots and lots of
these
amazing candles
(I used this company almost entirely for our wedding; they rock); with scents like Banana Bread, Snickerdoodle and Caramel Apple, I think we've got the 'comfort' thing covered.
And now I think it's time we got to the food. It's what we've all been waiting for, right?
Our very first guest, here's
Elle
!
Knowing that love and comfort often go hand in hand, Elle's prepared
the
sweetest
Heart-Shaped Parmesan Crisps
. Aren't they adorable?? She's also the woman with the
Port
, and with a few almonds on the side, I think it's an absolutely perfect start to the evening.
Thanks so much for coming, Elle!
Not only is this night about comforting foods, it's about welcoming new
friends! Say 'hello' to
Tigerfish
, everyone.
And what a way to make an entry! Impressing the heck out of me, you have to try this
Puffy Pastry-Topped Cream of Mushroom Soup
! It's brilliant,
seriously. Hold the mug in one hand, and use the crust as a spoon.
Fantastic. It's a beverage, it's an appetizer.
Tigerfish, we're
very
glad to have you here!
We love repeat-party-ers here at Blog Party, so it's great to see
Mel's
come back for a bit of comfort tonight. Mel's proving that party food doesn't have to be about triple-cream brie, because her
Roasted Carrot and Potato Wedges
sound divine! Dipped in some garlic-flavored mayonnaise, this promises to be a real treat. And clearly on the right track tonight, Mel's brought more
Port
. Good to have you back!
Yay!
Breadchick's
here!! Her name alone conjures visions of comfort, doesn't it? Well, she's not letting us down, with her wonderful
MiniYooper Pastys
; dough-wrapped packets of meat and veggies. I'm a sucker for foods like this.
She's also scored points with Matt, because there's also some some
wonderful
Vernor's Ginger Soda
, one of his favorites. And oh, I do happen to have some Edy's Vanilla in the freezer!
Thanks so much for coming, Breadchick.
Everyone say 'hi' to
Sara
! She's offering up some serious comfort food, too, with her
Mini Sloppy Joe's
...and they're even vegetarian! I can have
some!! Yippee.
Sara's also got my attention with her
Pineapple Juice & Soda Water
; just happens that
I
adore
pineapple juice.
And because desserts are always comforting, be sure to try her
Lemon Gem Cupcakes
; they look delicious.
Always happy to have you with us, Sara!
I'm so very glad to have
J
back, if only for her serving ware!
No, the food will definitely have you saying thank you, trust me. You'll want to pace yourself...there's the delightful
Spoonfuls of Bangers & Mash
, the
Poached Quail Eggs on Toast
, some fantastic-looking, and
tiny
,
Steak & Mushroom Pies
, more spoons, with some containing melted
Cauliflower Cheese
, and others
Baked Macaroni & Cheese
; yum. And we finish up with a warming mug of
Hot Chocolate
...that's a hug in a cup, for sure.
Wow...J; we are all impressed, yet again. Thank you so much!
Good to see, you,
Brilynn
!
I can always count on you for something sweet, too, thank goodness.
Tonight, it's her
Chocolate Fudge with Cherries & Pistachios
, served in
spoons. Adorable!
And keeping with the sweet theme, more
Hot Chocolate
. That's alright with me, how about you?
It's a wonderfully comforting, and sweet, bite, Brilynn...happy you could make it tonight!
Next, it's
Jessica
! Wishing for warmer weather, Jessica's doing her best
to get Old Mr. Sun out of hiding for good, with her cute
MiniS'mores
.
I love the idea of using a candle from an oil warmer to heat the marshmallows! I have a couple handy, just in case we need to make more.
Jessica, I will happily eat these (of course, mine are made with vegan marshmallows), and even do a little sun-dance, if it helps. I'm tired of being cold, too!
Thank you so very much for coming tonight.
Welcome back, M
arie-Laure
! So glad you could be here tonight.
And you'll be thanking her, as well, after you've had a few of these

Little Cheese Pies
.Mmmm. I've kept the oven on, so feel free to pop them back in for that melted effect!
And I love her
Pomegranate Lassi's
; what a lovely combination! Healthy, sure...but you know that's going to taste good. And they're so pretty!
Thanks again, Marie-Laure.
Tag,
Brigitte
!
Parties really are a good place to meet new people, aren't they? Well,
you're sure to get a
very
warm welcome tonight, with the feast you've prepared. Check out the amazing appetizers she's brought along, like the

Screwed Japanese Cucumber en Nature
, the glasses of
Buttered Lettuce and Cocktail Tomatoes with Dill Sprigs
, little spoons of
Conchiglioni filled with Crisp Fried Kipferl Cubes
, and...oh, well, take a look for yourself!
And yes, there's something comforting about a little bottle of
San Pelligrino
, isn't there?
Brigitte, this was fantastic. Thank you so much for joining our party!
Freya's
just shown up (have I ever told you I have recurring nightmares, since I was four or five, about zombies?), and this is her first time at Blog Party, too! No worries, you're already a hit, because I've started passing
around your awfully cute
Mini Malted Chocolate and Banana Cupcakes
. Having grown up
with Whoppers, I'm curious about yourMaltesers!
And comfort in a cup is what you'll get when you try Freya's
Bailey's Shot with Maltesers
.
I'm so happy you could make it, Freya!
I'm very happy, because the much-too busy
Ulrike
has returned! It's really good to have you back, you know.
And I think you're going to enjoy her
Spoons of Spaghetti with Bell Pepper & Tomato Sauce
; that really does look comforting! And I'mlovin' the spoons.
And that
Hot Milk & Honey
sounds wonderful; thanks again for coming, Ulrike!
We have another new face tonight, and another
Jessica
! Welcome.
You're going to fit right in, because those
Grilled Cheese Strips
, and the
Tomato Soup Shooters
are practically the poster children for Comfort Food! And I'm definitely going to be trying some of your
Peppermint Tea
; I'm a bit of a tea junkie, no coffee for me.
It's a perfect addition to the party, Jessica; thanks so much for coming!
We have another first-timer here tonight; say 'hello' to
Rinku
!
I have a feeling you're all going to love these
Green ChickenDrumettes
, marinated in so many wonderful spices and herbs. They look fantastic, Rinku....thanks so much for coming tonight!
Yippee! I'm always happy when a guy joins Blog Party, I mean c'mon; who doesn't like a man who cooks?
So give a warm welcome to
Ian
!
And boy, did he get creative, turning some serious comfort (and almost college-bound) standards into cocktail fare.
But be prepared: I've had a certain TV jingle floating around in m head for days.
Tonight, Ian's given us the
Bacon 'N Egg Rice-a-Roni Canape
, bacon-flecked frittata
pieces served on toast. Then, there's the
Weenie-Kabob
(I feel so fifth grade right now...);
with bits of hot dog and various toppings on a skewer. It's brilliant.
I'm already calling 'dibs' on the
Mashed Potato Poppers
...just wanted to give fair warning.
And Ian has come up with one of best-named cocktails Blog Party has seen in some time:
The Flux Capacitor
. Ouzo and Sprite. I'll bet that's
really
how Doc got the idea, not the hit
to the head.
Thanks so much for coming Ian, I do hope you'll stop by again!
Ok, you've all made so many fantastic dishes, I almost hate to add a few more. But, what the heck. We can all hit the treadmill tomorrow.
First,
Breakfast Bites
. Very simple, really. I love breakfast foods, but not necessarily the usual serving times. Here, a toast square serves as base for creamy scrambled eggs which are topped with crumbled crisp bacon and gratedAsiago cheese. Delicious.
(this one was for Matt, I had some with faux bacon.)
One of the few things I 'miss' as a vegetarian is turkey dinner. It was probably my favorite thing. I loved Thanksgiving, and even requested it for a couple of birthday dinners as
a teenager.
I can't have it now (although the Now & Zen Complete Unturkey Feast does a passable job), but I can live vicariously. Through these
Tiny Turkey Dinners
: mashed potatoes, wrapped in
smoked turkey breast slices, and pinned to a round of stuffing. Served with a gravy dipping sauce.
For me a glass of milk can be comforting, but not very exciting. So instead I've turned to the
Root Beer Float
. Not only comforting, but charming and old-fashioned.
I used Edy's Vanilla, and a marvelous brand of root beer we get from Earth Fare.
Ok, I have now eaten so much that the Yoga DVD's I've been ignoring for weeks are starting to seem like a good idea. I've had a really good time, and I hope you all have, as well.
As promised, everyone who attended the party will be getting an email from me, announcing March's theme. Of course, this is a bit late, so the email won't really be much of aheadstart.
And that takes me to another round of 'thank yous', for being so patient with me and the
round-up. Between computer and health issues, I was beginning to wonder if I'd ever get this posted! So, thanks again.
Ok, glad I wore pants with an elastic waist tonight...thank you all for coming, and I do hope to see you here in March!
Tagged
with:
Food and Drink
+
Blog Party
+
Events
+
Appetizers
+
Cocktails
+
Comfort
Food
+
Blogging