Well, that didn't last long
.
Forget mice and men.
The best laid plans of one busy housemommy went out the window. But the family still needed to eat.
I didn't want to spend too much time on dinner, and I wanted to use things already in the kitchen.
I ended peeling and
very
thinly slicing two potatoes, and cheat-cooking them in the microwave (nice to use it for something other than re-heating once in a while).
I had two pans on the stove: one for the vegetarians, with both olive oil and butter melted, and another for the carnivore, in which I'd melted bacon grease (my grandparents always kept a small crock of bacon fat near the stove for just this sort of thing, and even though I have no use for it personally, I save the grease any time I cook bacon for Matt). I laid the potatoes into the pans in concentric circles, over medium heat.
Meanwhile, in two separate bowls, I whisked together eggs, a bit of milk, some shredded cheddar cheese, oregano, cayenne pepper and red pepper flakes, and into Matt's bowl crumbled some already-cooked, and left-over, bacon. Into the other, some Morningstar Farms meatless bacon.
Once mixed, I poured the eggs over the potatoes, then topped with another layer of potatoes. I let it cook until almost set, then covered the pans and let things cook until the eggs were completely done.
Matt's potatoes, in particular, smelled
divine
. I made his in a cast iron skillet, and coupled with the bacon grease...well, I almost missed meat!
The eggs were nicely flavored, but the potatoes? Oh, wow...perfect. the bottoms, which you can see in the first photo, were crisp and brown. Those on top were tender, as they should be.
There was just a touch of heat from the peppers, and the oregano was present without taking over the whole dish.
Matt loved his so much, he went back for seconds.
It was such an easy meal, but it really packed a flavor punch.
Not bad for a by-the-seat-of-my-pants dinner, huh?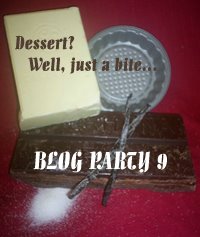 Blog Party#9 has been announced
, and for the month of April, we're turning our favorite desserts into bite-sized treats! Create sweet appetizers and drinks (non-alcoholic would be just fine), and get your entries to me
no later than
20 April. You can leave a link here in the comments, or send an email to
thehappysorceress at gmail dot com
; and I hope to see you there!
Tagged with:
Food and Drink
+
Potatoes
+
Eggs
+
Cheese
+
Bacon
+
Dinner