Sugar High Friday #10---Oh, Honey!
.
Graham Cracker Honey Ice Cream/S'Mores Sundae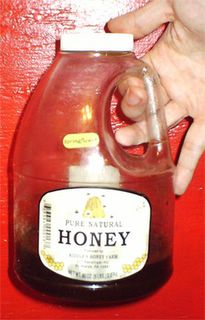 So many options! One of the reasons I love Sugar High Fridays so much is all the choices...this month's food fest is hosted by the always-charming Nic of
bakingsheet
I finally decided to make ice cream, then had to whittle down the list of recipes I'd found.
Graham Cracker Honey Ice Cream
Interesting recipe; graham crackers, ground to powder, along with eggs, milk, powdered milk, cream, vanilla, and of course...honey! I used the honey pictured above; it's from a farm in my home town (picked up on my last trip to PA). Chunks of graham cracker are added at the very end.
It took less than 25 minutes to churn, making this one of the faster ice cream recipes I've made.
Top ice cream with melted chocolate (in this case, it just had to be Hershey's!) and a spoonful of marshmallow fluff.
(I, once again, apologize for the low-quality photo. My camera refuses to take pictures of white foods.)
Mmmm...S'mores in a bowl!
Matt's review:
The ice cream tasted like honey graham crackers, so, as expected, it went very well with marshmallow and chocolate. The only thing wrong with the sundae is that he should have put more cream in the ganache.